About the IITP RAS
>>
Working with youth
>> Educational projects
Educational structure of RAS IITP includes postgraduate scholarship, research and training center on "Bioinformatics" and MIPT basic departments: "The Department of Information Transmission and Processing Problems" and "The Department of Predictive Modeling and Optimization".
More than 20 leading scientists of IITP, specialists in different fields, participate in teaching and scientific activity. Students attend lectures on compulsory and special disciplines, seminars and elective courses. Researchers of the Institute together with universities' professors develop series of lectures, manuals and courses of laboratory research.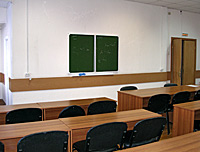 There are three lecture rooms accommodating up to 50 people, a computer class to conduct laboratory works, each of them has modern equipment to make presentations and hold teleconferencing. The Institute operates in an open access a reference room of research library which holds the best scientific literature in various fields of knowledge and the latest periodicals, such as unique scientific journals, local and foreign. The library is replenished by IITP employees traveling abroad on business trips). Since the beginning of 2007 the Institute has had a wireless computer network which provides a high-speed access to information on the Internet and e-mail service - for IITP employees, post-graduate students, students and guests, having portable and handheld computers (laptops or PDAs).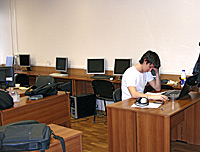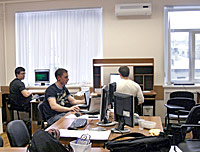 Besides the work on the basic departments, IITP researchers actively teach in leading educational institutions of Moscow: Moscow State Linguistic University, Moscow State University of Railway Engineering, Moscow State Institute of Radiotechnics, Electronics and Automation, Moscow Aviation Institute and others, supervise thesis works, attract students to perform scientific work in IITP laboratories, conduct research seminars, develop educational and training aids, adjust curricula and create textbooks.
If you are young, active and willing to learn, pass internship or work in a highly professional team of the Institute - we are waiting for you!