Institute Structure
>> Postgraduate education and doctoral stud...
Postgraduate education and doctoral studies have existed even since the Laboratory for scientific problems study of wired communications. During this time there have appeared several hundred candidates of sciences who work in various regions of our country and abroad.
The Institute prepares postgraduate and doctoral students in the following specialties:
differential equations, dynamical systems and optimal control – 01.01.02
geometry and topology – 01.01.04
probability theory and mathematical statistics – 01.01.05
mathematical logic, algebra and number theory – 01.01.06
discrete mathematics and mathematical cybernetics – 01.01.09
mathematical biology, bioinformatics – 03.01.09
telecommunication systems, networks and devices – 05.12.13
mathematical modeling, numerical methods and program systems – 05.13.18
system analysis, information management and processing – 05.13.01
informatics theoretical foundations – 05.13.17
Postgraduate education includes several study modes: full-time (work being discontinued), part-time (without discontinuing work) and a fee-paying education mode. Postgraduate students are supervised usually by doctors of sciences – laboratory chiefs and senior specialists.
The admission to postgraduate education in RAS IITP takes place twice a year.
Spring session:
the submission of documents – April-May,
exams and enrolment – June.
Autumn session:
the submission of documents – August-September,
exams and enrolment – September.
The enrolment and postgraduate studies are carried out under the Licence and in accordance with "The regulation on the preparation of educational and scientific personnel in the system of postgraduate professional education in the Russian Federation", which can be found on the website of the Ministry of Education and Science of the Russian Federation.
Chief of postgraduate studies:
Elena Petrova, Candidate of Physical and Mathematical Sciences (room 305).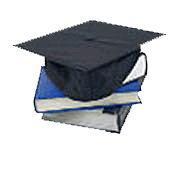 Tel. (495) 699-94-15